This section details about the distribution of the MAHA token over time.
The
MAHA
token is a limited supply token with no more than 10 million tokens that will ever be circulated. A vast majority of
MAHA
tokens have been allocated to community and ecosystem-related activities, which underpin MAHA's dedication to being a coin that is governed and controlled by its people.
Furthermore, the supply of
MAHA
is stretched out across a period of 10 years to ensure that token holders are as distributed and decentralized as possible. No one entity should be capable of controlling more than 1% of the supply over the course of the next few years.
Over 67% of the MAHA token's supply is allocated towards community and growth related activities.
On December 17th, 2020, MahaDAO conducted its very first private sale and IDO, releasing approximately 8% of the supply into circulation.
The
MAHA
token is unique in the fact that the token is gradually released into circulation over 10 years. This is done to ensure that the
MAHA
token's supply stays as evenly distributed as possible, keeping the entire protocol and the ecosystem secure from whale manipulation.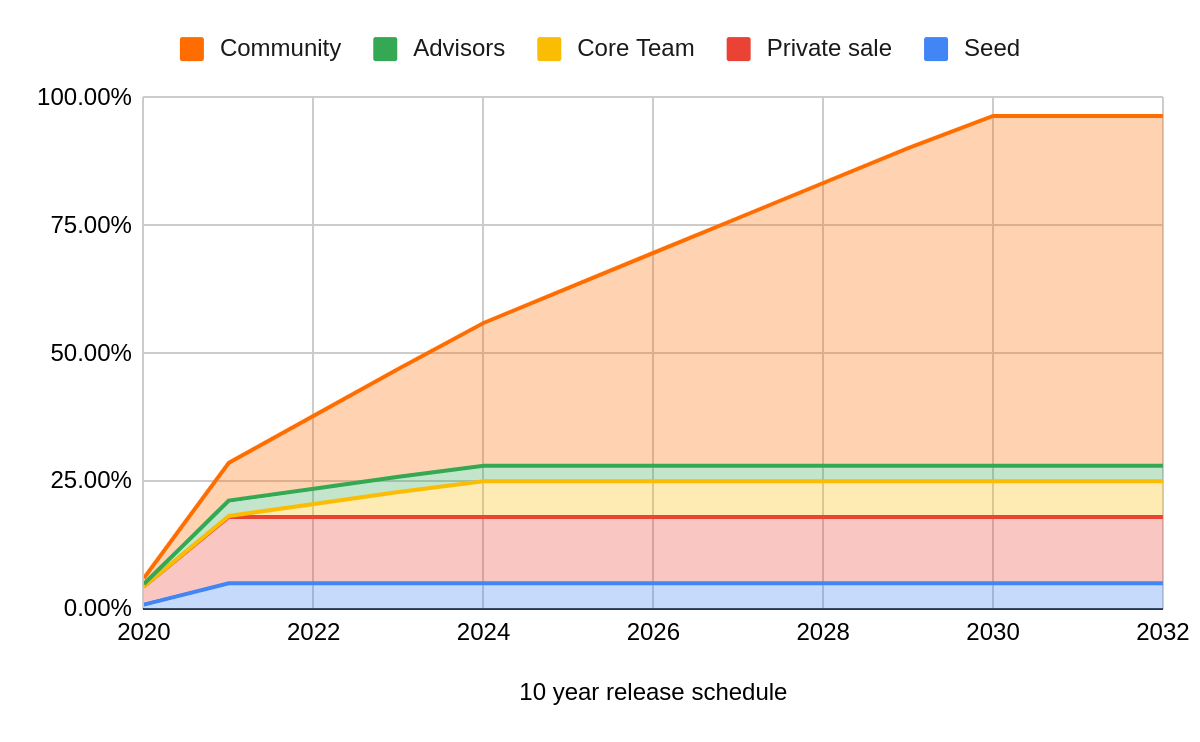 A pictogram showcasing how the token supply gets released over time.
Tokens are released into circulation through a linear distribution to ensure that there is no concentration of tokens amongst early adopters (Except for the first year when private and seed token holders are continuously vested).
(It is estimated that by the year 3 or 4, the token distribution would be spread out as evenly as possible so that no single entity can control more than 1% of the MAHA supply).
Post 10 years, the annual inflation rate drops to 2% per year.
For those who'd like to take precise numbers on how much
MAHA
will get added into the circulation, month by month; an excel sheet (linked
here
) has been created, which goes into depth on how many new tokens get added into circulation.
An interactive excel sheet which showcases token supply month by month